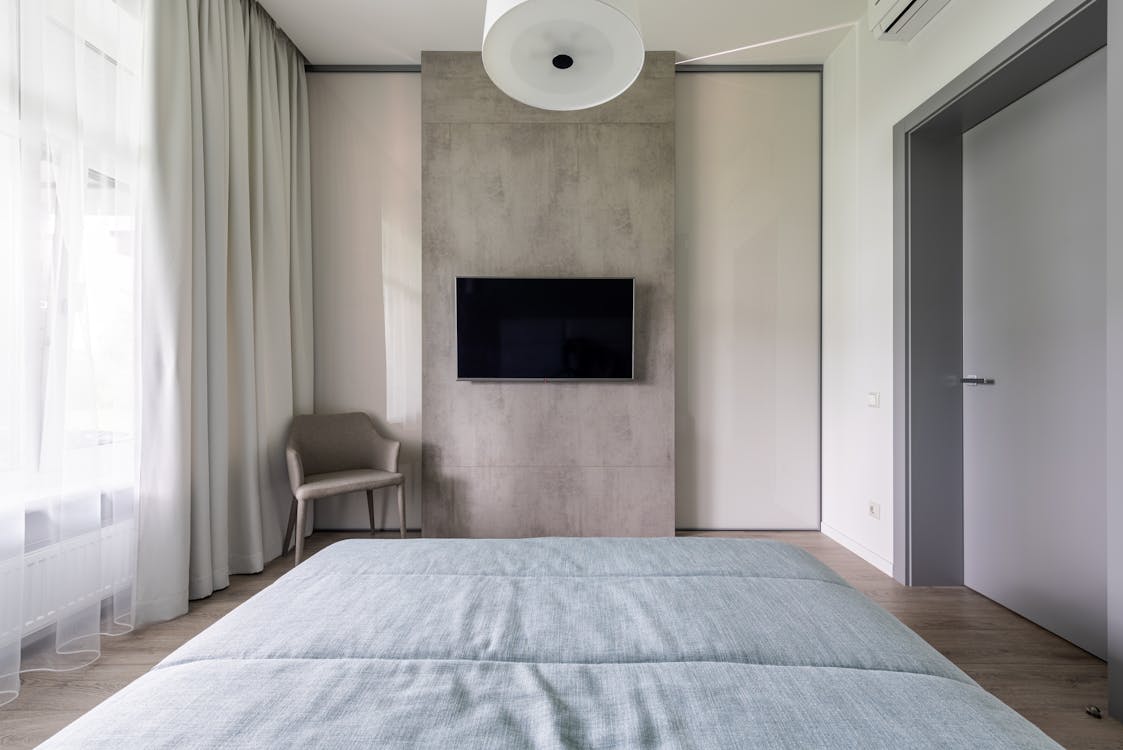 After a long day at work, having movie nights in the comfort of your own home is a satisfying experience. We have amazing home theater ideas for you whether you are ready to commit or simply considering the potential of a home theatre.
Recently, entertainment rooms and home theatres have become quite popular. Because of their enjoyment factor as well as the fact that they can increase the resale value of a home. If you're considering installing or renovating one, you'll want to look into home theatre room ideas. This guide will assist you in ensuring that the space you end up with will provide numerous hours of fun for your family and friends.
Choosing Your Home Theater's Location
You must evaluate the placement of this entertainment space before deciding on home theatre design ideas that are ideal for your home and family. Light and sound are the two most important aspects of a home theatre. You'll need a location where you can exert as much control over these variables as feasible. This is why basements, living rooms, and family rooms, as well as an extra bedroom above, are regularly used as home movie theatres. It needs to be in a peaceful, self-contained area that won't interfere with the rest of the house when you're using it. While having your home theatre room ideas in these precise spots is not required, other areas of your home will require extra customization to ensure optimal lighting and sound control.
Because it is isolated and dark, a basement home theatre is an ideal choice. The control of sound and lights will be simplified as a result. Basement home theatre ideas are especially enjoyable to implement because you have the leeway to go against the rest of your home's concept. For your convenience, we've included several basement home theatre ideas below.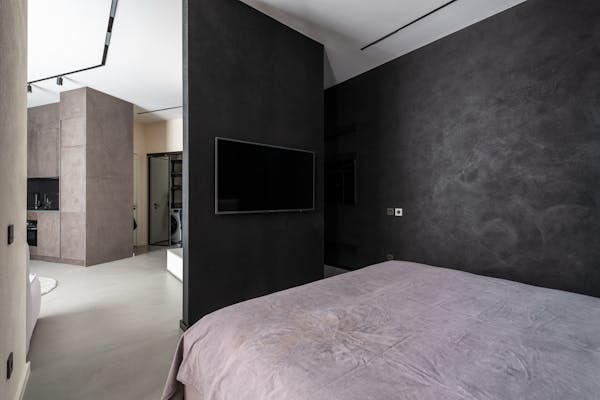 Top Mistakes to Avoid When Building a Home Theater Room
You invested a lot of money and work into your small home theatre ideas, but something doesn't seem to be quite right. Did you make any mistakes? Take a look at our list of frequent blunders that most of us do while putting together home movie theatre ideas.
Buying the wrong TV size is at the top of our list. One of the most common causes for TV returns is that they are either too huge to fit in a designated space or are too small for the room size.
To choose the optimum TV screen size, you must first examine the space where the TV will be placed. Both the available width and height should be measured. Also, determine the seating distance from the screen you intend to place. Yes, when picking the proper TV size, you should also consider home theatre seating concepts.
The second typical blunder is that the space lacks windows or has poor lighting. The experience of watching TV and video projectors is influenced by the lighting in the room.
In a semi-lit environment, most TVs perform admirably, although darker is usually preferable, especially for video projectors. Never mount your television against a window. If you're using curtains to cover the windows, be sure they don't allow light to enter the room while they're closed.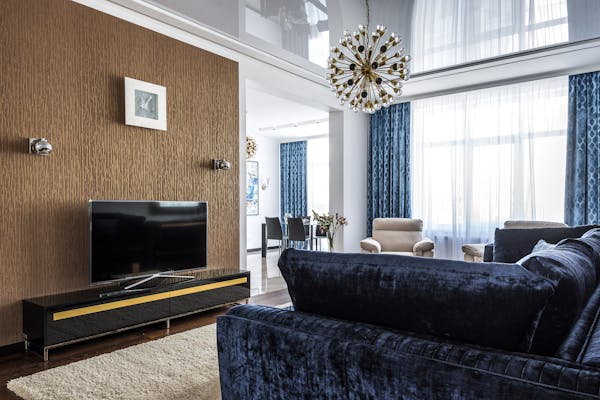 Home Theater Design Ideas: Top Trends
We recognize that there are a lot of factors to consider when designing your home theatre. Is it possible to complete the process on your own? Absolutely! Depending on your budget, you may also make your home theatre décor ideas a reality.
Acoustics
Have you ever noticed how high-end audio stores always display their speakers in a distinct room? It's no secret that the acoustics of your environment has a big influence on perceived sound quality.
You can help confine sounds and limit the entrance of outside disturbances by designing a space that ingests sound rather than reflecting or transmitting it when considering the acoustics for your room structure. The way you cover the area from top to bottom is the key to creating outstanding sound.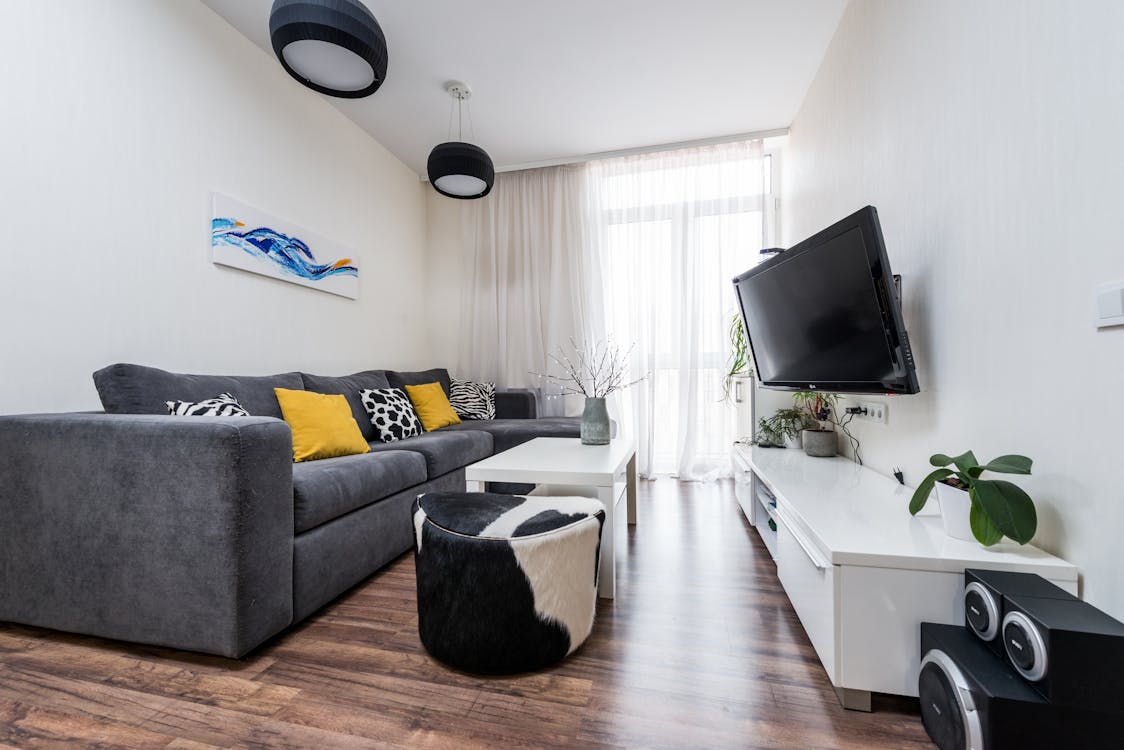 Coverings for the ceiling, walls, and floors
The ceiling of your home theater ideas should be made of acoustic tiles. If you go to a movie theatre, you'll notice that the roofs are fastened by fiberglass boards. These boards are similar to the ones found in many offices' lowered ceilings. Fortunately, using these drop systems to cover an unfinished ceiling is the most cost-effective option.
Most modern homes have drywall walls, but older homes have plaster walls. The acoustics of both materials are terrible. You may solve the problem by using inexpensive, lightweight acoustic boards from most home improvement stores. Then you can cover them with thin indoor carpeting similar to what you'd find on movie theatre walls.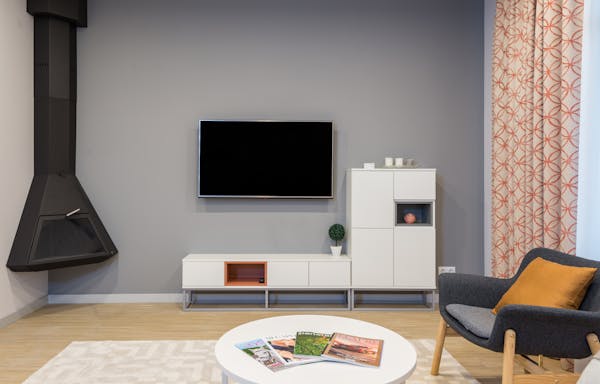 Outward Appearance
Furnishings & Lighting
To make the experience as delightful as possible, movie theatres spend a lot of effort creating the finest possible lighting structure and seating design. Your home theatre décor ideas should be equally as pleasant as, if not more so, a professional theatre.
While you'll need the choice to turn up the lights before and after watching your movies, too much light during the movie can degrade the image quality and diminish the overall feel of your home. While a windowless room may seem ideal, you will almost certainly require some light while watching your movie.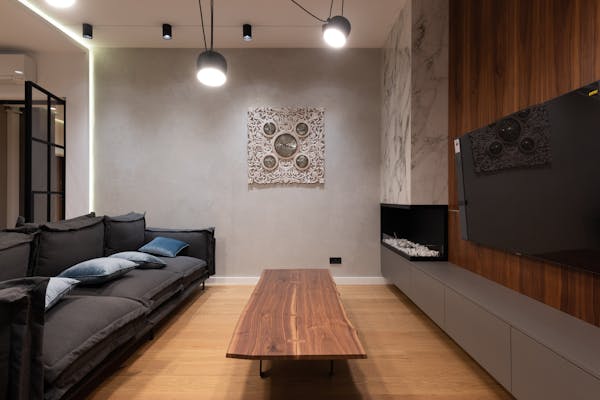 A dimmable lighting component is the best option.
The cost of custom-designed home theater ideas seating concepts is usually quite high. Reclining seats or a couch you already own are the more conservative options. If you have adequate room and need to accommodate two rows of sitting, build a wooden stage that is six to twelve inches high to elevate the second row. You're ready to go once you've covered the space with carpet.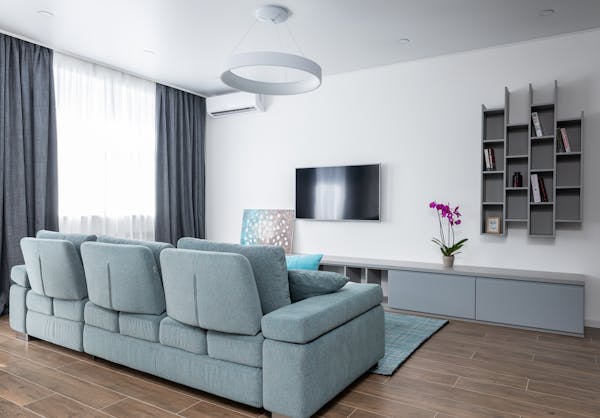 Ideas For Designing And Decorating A Home Theater
Before deciding on the ideal home theatre design for your family, think about the location. When it comes to creating a home theatre, light and sound are two important considerations to consider; you'll want to choose a location where you have the most control over both elements as possible. As a result, many homeowners considering a home theatre installation intuitively gravitate toward the basement—often the property's most self-contained, quietest, and darkest location. There's no reason why a home theatre installation in a living room or spare bedroom shouldn't be considered, but these locations may require additional modifications to ensure proper lighting and sound management.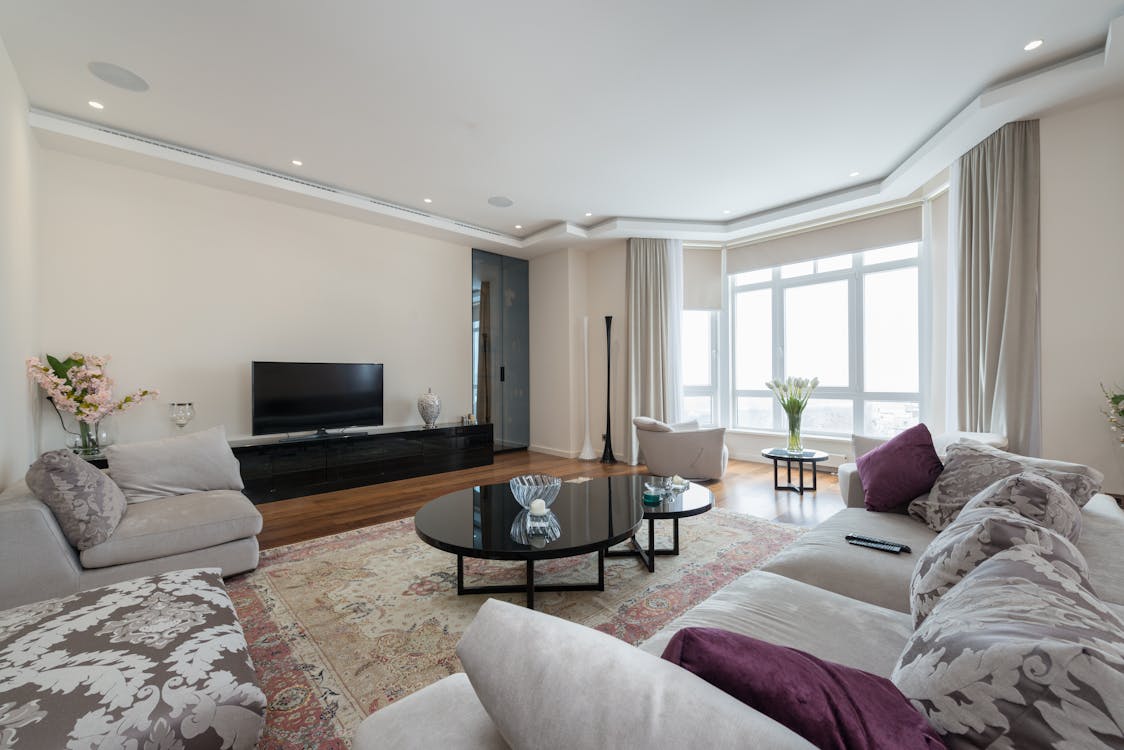 Technical Arrangements
After you've selected the greatest place in your home, think about the technical, audio-visual, and design requirements for your home theatre. The first thing to look for in your venue is the ability to connect the area for lighting, video, audio, and internet connection. Internet connectivity is optional but recommended and provided in most modern home theatres, while lighting, audio, and video wiring are essential. Homeowners are increasingly interested in connecting for multiplayer gaming or online surfing on the large screen and streaming television via the internet or set-top boxes. When it comes to wiring, make sure you can hide the wires for lighting and electronics in the walls or in discrete tubes around the room—a tangle of wires isn't the look you're going for, and it could also be a fire hazard.
After you've looked over the wiring, you'll want to concentrate on the audio-visual and electrical equipment that you'll be using in your home theatre. Your options are practically unlimited in terms of cost and complexity, but one guiding factor you can use to get started is the size of your home theatre area. The size of the TV or projection screen required, the number of speakers required for your sound system, and the lighting system will all be determined by the room's proportions. Other AV, lighting, and electronics considerations include whether you want to control the entire home theatre system with a single universal remote, via a smartphone or tablet, or through an existing whole-house automation system.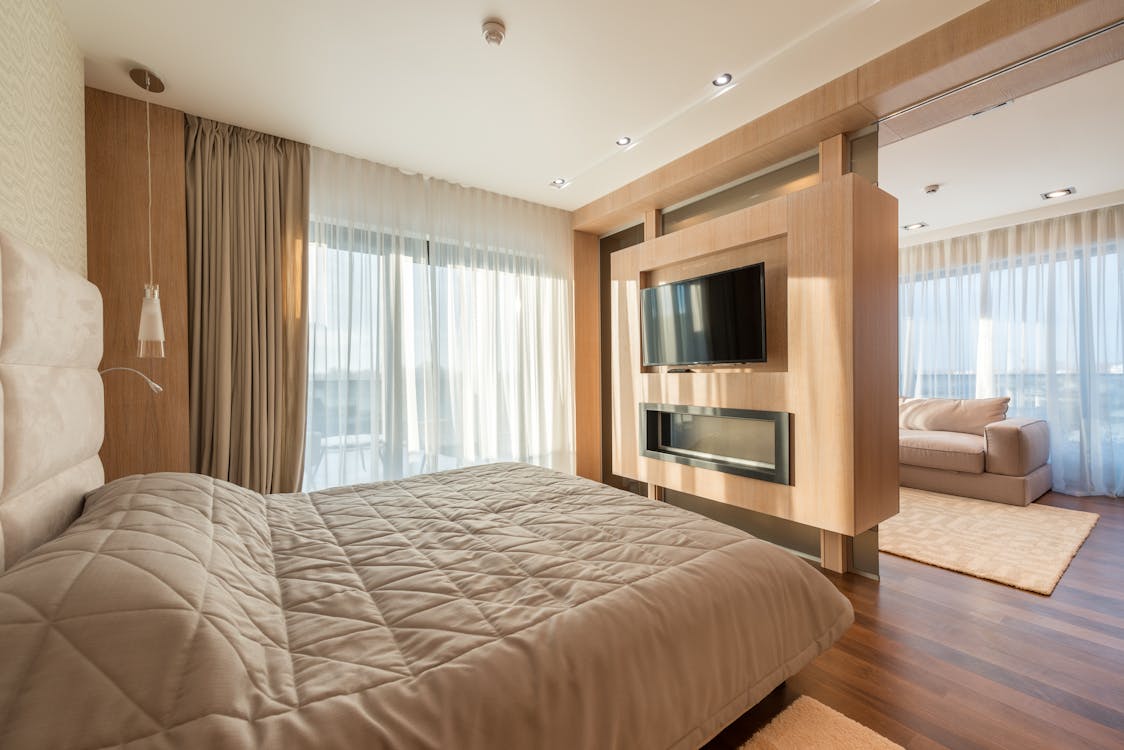 Design of the Interior
It's time to start thinking about interior design after your home theater's inventory is complete. The amount and type of furniture and decorations you choose will be influenced by the room's size and structure. Larger home theatres, for example, may include stadium seating in the style of a movie theatre, with large recliners provided for each visitor. On the other hand, homeowners with smaller home theatre rooms may pick simpler seating arrangements of sofas and chairs.
The final aspect of any home theatre is thematic design. Many homes with the space and resources opt for a design that includes a tribute to the modern theatre experience, such as curtains, rugs, and even popcorn machines, as you browse current settings for inspiration. Others choose a more understated design that blends well with the rest of the home's decor. Finally, the choice is yours when the opening titles on your home theatre project begin to play.
Courtesy: multi channel home theater