It's not as simple as buying a projector and a screen and calling it a day when it comes to creating your ideal home theatre lighting. You'll need a powerful sound system, with comfy seats and, maybe most importantly, home theatre lighting.
You'll need at least two "scenes" (lighting settings): one with brighter lighting for setting up/cleaning up the space, and another with a "movie-mode" lighting setting to enhance the in-film experience. Consider adding a third or fourth scene if you want to host parties. If you're hosting a viewing party for a sporting event like the Super Bowl, for example, you'll want to think about how much lighting will serve the function of the event without detracting from the quality of the viewing experience (remember to keep in mind the lumen output of the projector – if you need help determining the right output for your projector, check out this projection calculator).
Enhancing the Viewing Experience through Lighting Scenes
The placement and layout of light fixtures are quite important. You should avoid shining additional light on the projection screen, as this can degrade the viewing quality. Any light cast onto your screen will degrade the projection quality, so you'll want to avoid this at all costs. From the perspective of the theatre seats, you also want to avoid causing glare. Simply said, glare is any light that is too bright to be comfortable to look at. Your "movie-mode" scene, on the other hand, cannot be wholly devoid of ambient light.
Downlighting – Direct Lighting
The sort of light fixtures you select for your home cinema room is just as crucial as the lighting quality. Recessed lighting with a regressed lens is particularly desirable in a low-glare application such as a home theatre. Downlights, often known as "can lights" or "high hats," are the same style as a recessed lighting fixture with a regressed lens.
Consider the effect of covering a light bulb with a lampshade. The light is extremely bright and uncomfortable to look at without the lampshade. The light gets softer and more comfortable with the lampshade. Regressed downlights are an excellent technique to provide glare-free ambient light for your "movie-mode" lighting setup in your home theatre.
The reflector or bevel is the angled inner component of a downlight. This interior section is available in a variety of colours, the most frequent of which are white, black, and clear anodized/zak. When looking at the downlight itself, a white reflector will appear the brightest and have the highest likelihood of causing glare; black provides the most glare reduction, but will be noticeable in white ceilings and can appear grey when the lights are on; clear anodized/zak provides moderate glare reduction and will look mostly the same whether the fixture is on or off; clear anodized/zak provides moderate glare reduction and will look mostly the same whether the fixture is on or
LED downlights are available in a variety of shapes and sizes, as well as flanged, mud-in, and trimless options to match the ceiling material and design style. Flanged trims have a little lip that covers the ceiling's rough aperture. A flanged trim, on the other hand, is more forgiving if you plan to DIY your home theatre lighting because it can hide any errors caused by cutting into the ceiling.
Larger rings with holes in mud-in, or spackle flange, trims allow a carpenter to apply spackle straight up to the aperture, or opening, of the downlight; mud-in trims are highly common in modern and contemporary aesthetics. Trimless installations can be challenging, so if you prefer this style of trim, double-check your measurements before cutting.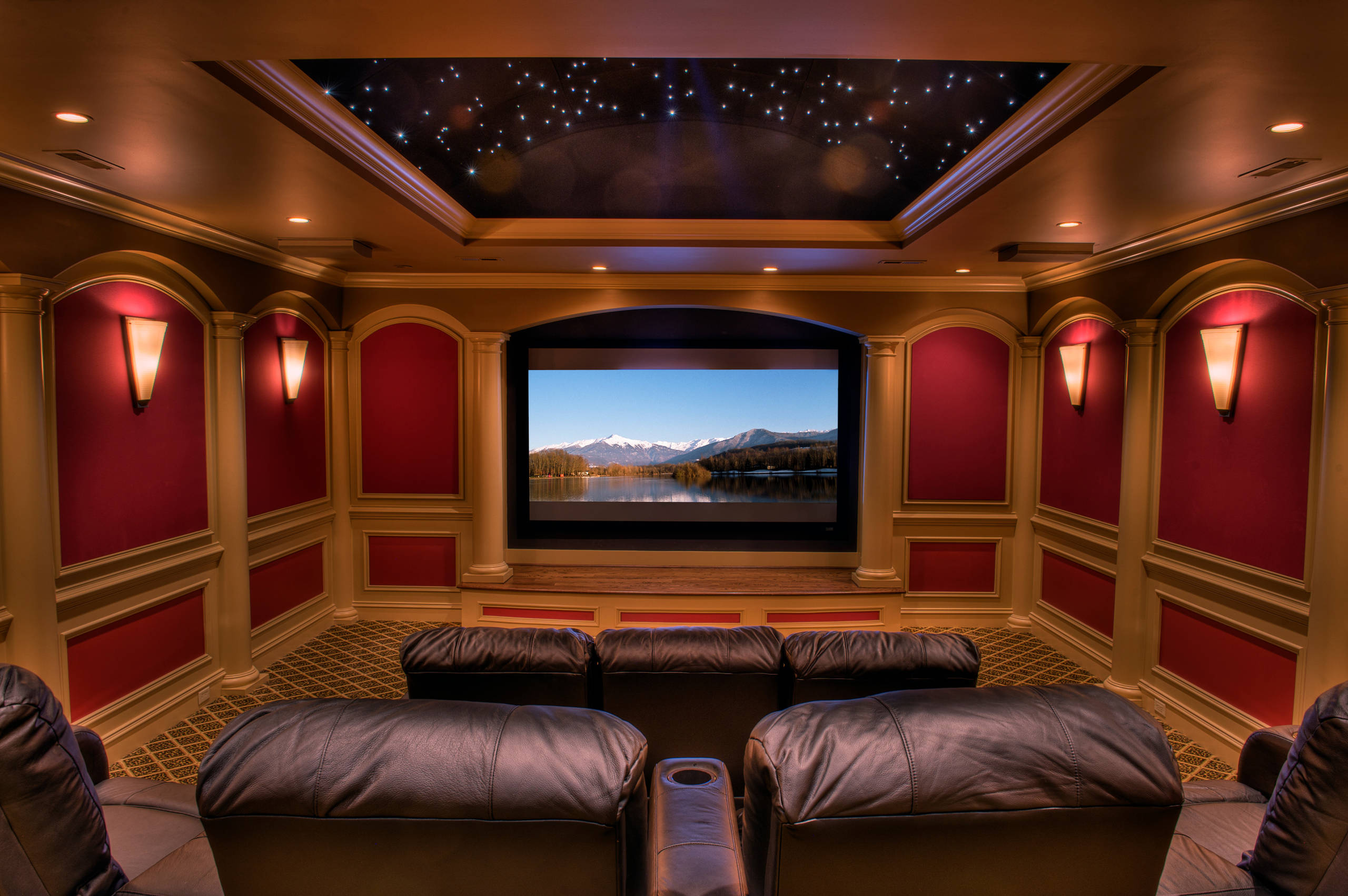 Cove or uplighting are two types of indirect lighting.
Indirect lighting is an excellent approach to creating a glare-free environment. You may improve ambient lighting in a location without negatively harming those who are present by illuminating surfaces such as walls and ceilings. This means that instead of a dark cave-like situation, your projector can produce bright, clear images. You must still avoid any light spilling onto the projection screen, so start by looking at the ceiling for indirect lighting options. Some lights provide indirect light by hiding the light source from direct view; however, because most of these fixtures protrude from the wall/ceiling, they may interfere with projected images. For home theatre situations, indirect lighting from a cove can be a useful lighting strategy.
LIGHTNESS Dimmable Wall Sconce Set of 2, Modern Black Wall Sconce Lighting Fixture Indoor Wall Mount Lighting Sconce for Hallway Bedroom Living Room, 3000K Warm White
About this item
Max.12W Dimmable Wall Sconce The dimmer switch allows you to adjust the brightness to fit your specific lighting demands. Note that the light does not include a switch; you will need to install a dimmer switch on your wall.
Simple Appearance: The dimensions of the product are 211210cm / 8.26″4.72″3.93″. The design is nice and straightforward, and it appears to be quite sleek and stylish. 12W is the maximum power output. Voltage ranges from 110 to 220 volts. 3000 Kelvin (Warm White Yellow), homogeneous and stable illumination, no glare, creates a warm and inviting environment.
Energy-Saving The light source for the indoor wall sconces is two COB LED beads (included, CANNOT be replaced), each rated at 12W. The LED sconce will not only help you save money on electricity bills, but it will also benefit the environment.
Material: The entire body of the wall sconce is composed of solid aluminum, making it more sturdy, simple to clean, rust-free, long-lasting LEDs, no flash, and safe for the eyes. 50,000 hours is the average life expectancy.
Fits a typical US junction box and is simple to install. Surface-mounted lamp with a simple wired installation. Depending on the decor, it can be mounted vertically or horizontally. Note: For your safety's sake, please install under the supervision of an electrician.
Lighting with Purpose
You can combine the locations of narrow-beam pinspot downlights with your cupholders in a home theatre with fixed seating so that you can see your drinks and snacks. These pinspot lights will cast a tight, pinpointed beam of focused light on a specified spot, such as cupholders or snack surfaces, to improve the utility of your space without producing glare or distracting from the watching experience.
To avoid mishaps, you'll want to illuminate any steps or other potential safety hazards in your "movie-mode" lighting setup. The length of your platform/steps, as well as your design style, will determine whether you use a point source or rope/tape light for this application.
Considerations for Improving Design Aesthetics
Consider whether you want to display movie memorabilia in your home theatre or whether you want to create a place with few visual distractions. Do you want colourful accent lights to create a specific mood or to increase the party atmosphere while watching events?
If your home theatre has any decorations or characteristics you'd like to highlight (movie posters, wood/brick walls, memorabilia shelf, etc. ), you can use ambient/indirect lighting to accent them. Accent lighting, like cove lighting, can illuminate surfaces to add brightness to the space without impacting the movie projection quality.
Wall-mounted art lighting, integrated tape lighting, wall washing/wall grazing fixtures, and changeable recessed lighting are the most prevalent ways. Each of these methods has a unique application and result, but they all produce accent lighting that does not impede your viewing pleasure. If you're lighting movie posters, take into account any reflected glare from the glass in front of the piece.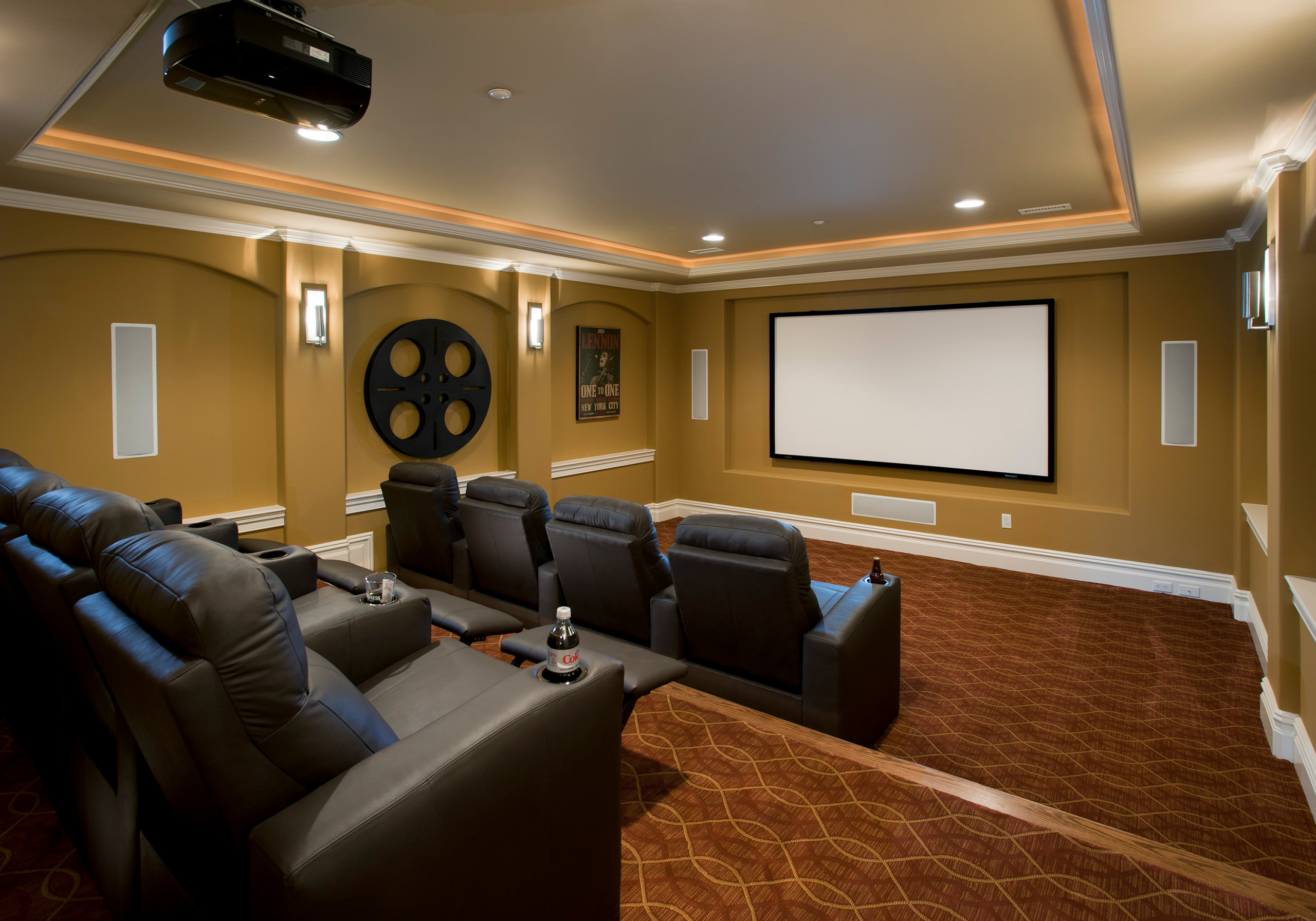 Consider low-brightness sconces situated at eye level or wall washing fixtures if you desire your movie room to have no decorations on the walls but yet want to employ accent lighting to generate the ambient light for your space. When it comes to providing ambient or indirect lighting, the colour of the walls, floors, and ceilings is extremely essential.
You can uplight the ceiling to give ambient/indirect lighting if your home theatre has a multi-level ceiling. A soffit around the perimeter (12″-24″ wide) with a pop-up in the middle of the ceiling, or a tiered ceiling that steps up or down opposite the flooring, are the two most frequent multi-level ceiling designs (think large performance theatre). For an equally uplit surface, the light source should be at least 1′-0″ from the top ceiling.
Just remember to turn down the light so that you don't get glare from too much brightness. Furthermore, if the cove is shallower, the light will travel less far on the ceiling. A perimeter crown moulding that serves as a light shelf is also an option. Whatever method you use to illuminate your ceiling, make sure the soffit lip is level with, or slightly higher than, the light source. Instead of a gentle gradation, you'll get cut-off, or a shadow line, if the soffit lip is substantially higher than the light source. If the soffit's lip is lower than the light source, you'll probably be able to see the fixture, which isn't ideal.
Look for RGB (Red Green Blue) or RGBW (Red Green Blue White) light fixtures in your home theatre if you want colour changing or static colour accent lighting. Phillips Hue is a popular RGBW fixture family in the home market, but there are many more possibilities, such as integrated shelf lighting, LED neon, fiberoptic, and so on. The two simplest approaches to minimise and remove glare with coloured light are to reduce light output and limit the ability to perceive the light source. It's crucial to consider the finish on which you're beaming coloured light when using it as an indirect light source. Lighter, whiter finishes will more accurately portray all hues.
Technical Lighting Options
Before you can successfully select and organise the lighting for your home theatre, you'll need to understand the technical aspects of lighting. Colour temperature, colour rendering index (CRI) value, fixture type and components, and dimming compatibility are all factors to consider.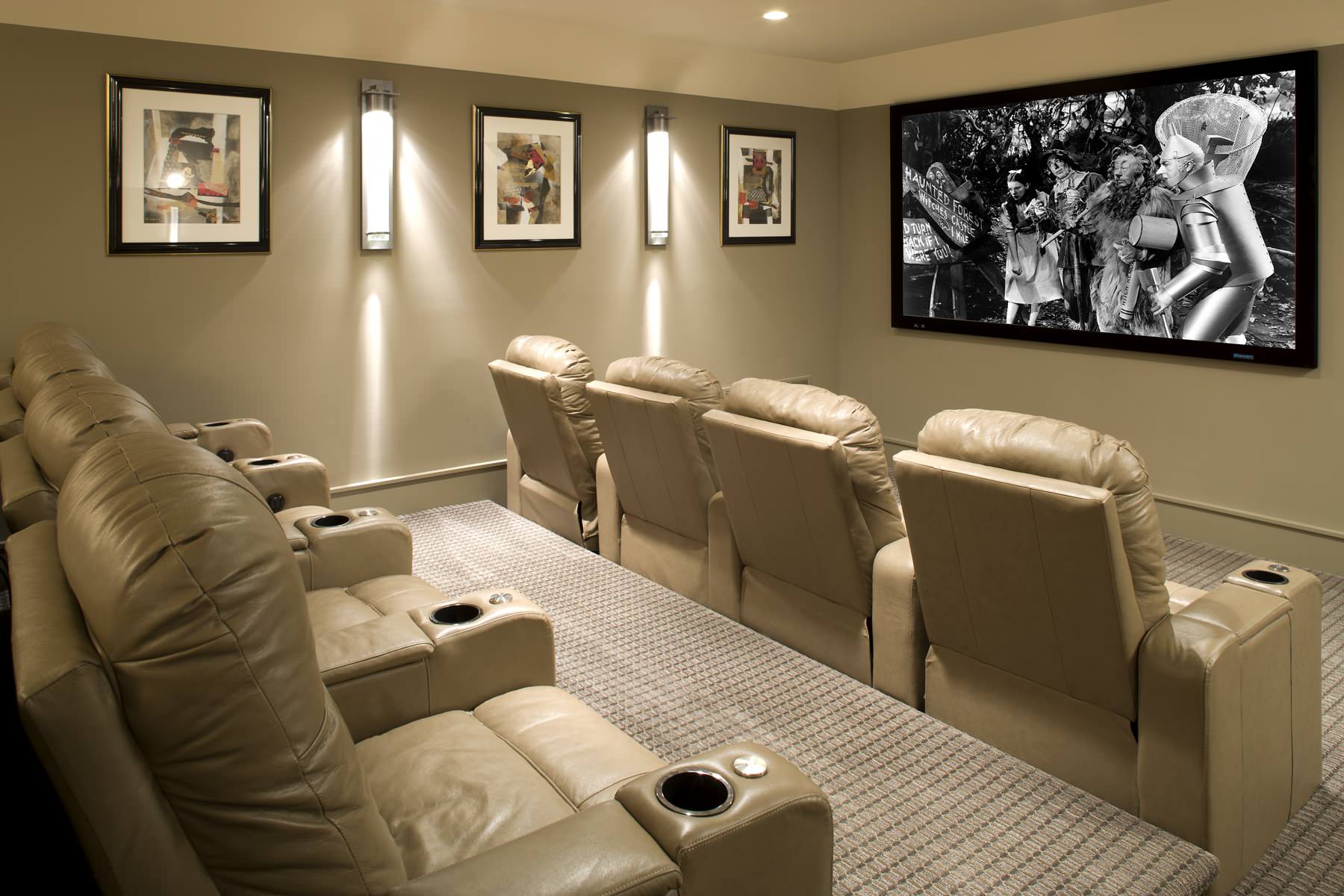 Temperature of Color
The colour temperature of white light might be more amber (warmer) or more blue (cooler). Kelvin is a unit of measurement for colour temperature (K). The lower the number, the warmer it is, and the higher the number, the cooler it is. The colour temperature of 2700K is similar to that of full-brightness incandescent lights. As a result, 2700K is frequently the most popular colour temperature for residences. Many people choose 3000K – a cooler light temperature – when they want a more contemporary look. As a general guideline, the colour temperature of all the light fixtures in your room should be the same.
home-theater-color-temperature
Even though LED chips do not change colour when they dim, LED lighting manufacturers have been able to imitate this effect by utilising warm dim/dim-to-warm/warm glow technologies that combine various LED colour temperatures in a single lamp or fixture.
LED bulbs and whole fixtures with this particular dimming capability are available from a variety of manufacturers. Warm dimming is more expensive, but before making your ultimate decision, think about the impact of colour temperature range on the beauty of your home theatre. Furthermore, there are a variety of dim-to-warm technologies, and not all of them work well together. If you decide that this type of experience is appealing, consult a lighting designer before finalising your plans to ensure that everything is compatible, dims properly, and maintains the same colour temperature across your room regardless of scenario selections.
Index of Color Rendering (CRI)
The colour rendering index (CRI) is a measure that describes how well colour appears under various lighting conditions. When illuminating artwork or highly coloured situations, getting high CRI value lighting is crucial. Because it contains all of the visible light wavelengths, sunlight has a CRI of 100. Low CRI is one of the reasons why most people find fluorescent lighting unpleasant since it tends to accentuate green hues while washing out reds.
Adding the finishing touches
This guarantees that each light fixture dims as effectively as possible. Most fixture makers also provide dimming compatibility tables, which can be useful for choosing the optimum dimming equipment.
Many audio-visual (AV) companies offer control systems that blend lighting with AV controls. You can acquire lighting controllers that create situations, such as "cleaning," "movie-mode," "party-mode," or "display only," to allow you to pre-configure the lighting effect you want throughout different scenarios if you're working with an electrician separate from the audiovisual. Some controllers feature apps that allow you to manage the lights from your phone, tablet, or smart speaker, allowing you to become comfortable and established before going into "movie mode."
Do you require assistance with home theatre lighting design? We'll put you in touch with the right professionals!
Lighting is an important aspect of the home theatre experience, and it's sometimes preferable to enlist the help of a design specialist who is familiar with the various options and details. Lighting designers are experts at designing and specifying lighting systems to fit the specific needs of each customer. Rebar Lighting Design is a Lighting Design Consultant who can provide customised services to fit your project requirements, ranging from hourly consultation to full-service design and specifications.